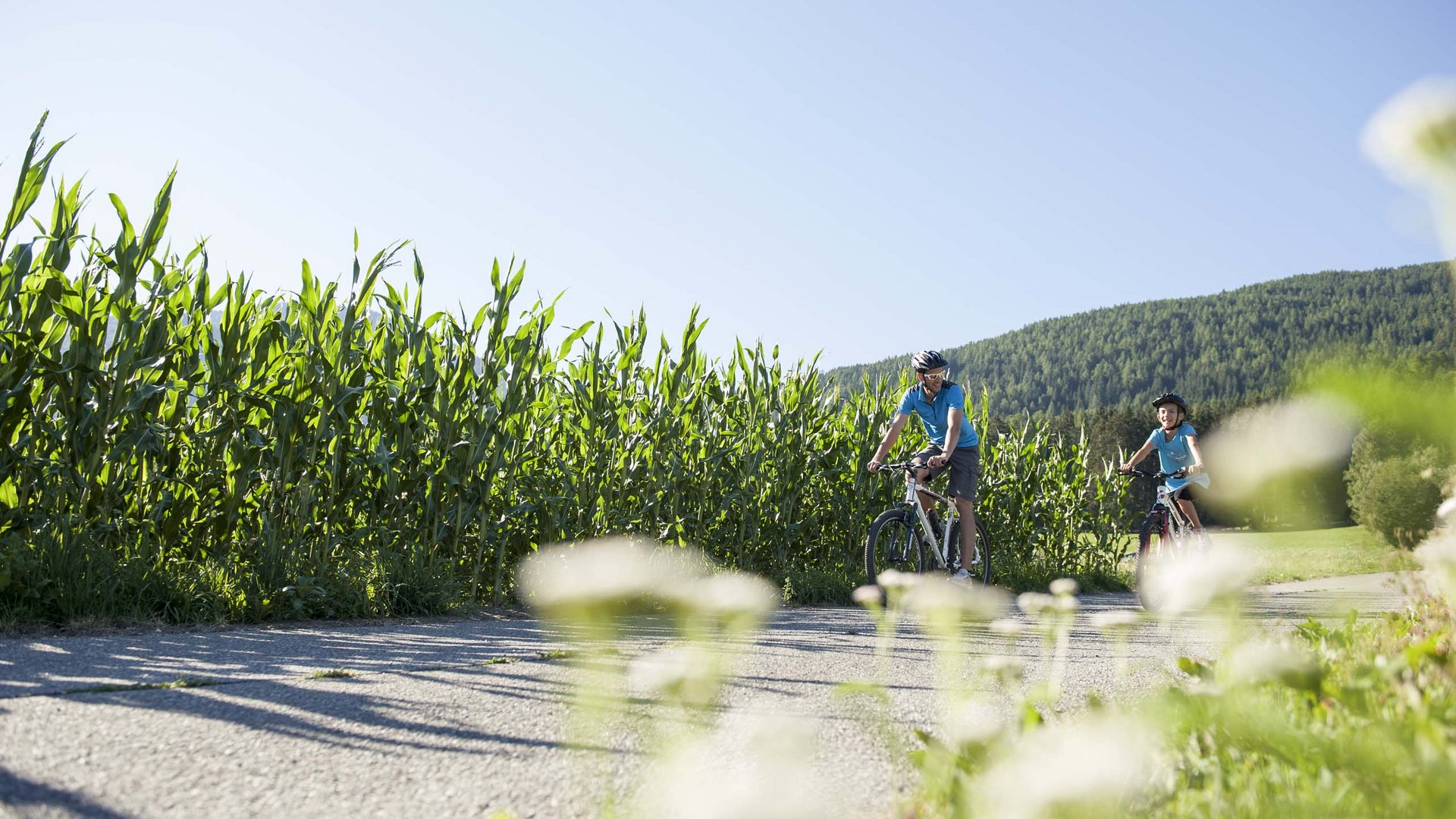 SUMMER: IMMERSE YOURSELF IN NATURE
In Olang, summer arrives and tempts people out into nature with its magical fragrances and glorious, sun-kissed landscapes. With the sun beaming down and the Dolomites beckoning, we think there's nothing better than enjoying the great outdoors. If you're not sure where to start, here are our favourite summer activities.
PLAN DE CORONES/KRONPLATZ: DOWNHILL AND FREERIDE!
When we say Plan de Corones/Kronplatz, what springs to mind? If it's only skiing, you need to think again! Plan de Corones/Kronplatz is a paradise whatever the season, and especially in summer. If you love adrenaline-filled biking adventures, don't miss the six freeride trails on Plan de Corones/Kronplatz with various difficulty levels. Head up high with the cable before zooming back down to valley. Here are our three favourites:
Bike & Freeride Gassl
Bike & Freeride Piz de Plaies
Bike & Freeride Furcia
PS. After an action-packed day, let your muscles unwind in Olangerhof's rooftop crystal spa!
VAL PUSTERIA/PUSTERTAL: A BIKER'S PARADISE
Not a fan of downhill and freeride? No worries: In Val Pusteria/Pustertal there's something to suit all cycling tastes. The Val Pusteria/Pustertal cycle path is some 110km long and runs from Franzensfeste in South Tyrol to Lienz in Austria. The route? "Oh, wow!": rivers splash merrily through valleys, awe-inspiring peaks trade places with idyllic Alpine pastures, and nature merges with charming Medieval towns.
Tired of pedalling? Then soak up some culture in Bruneck, stop off at Lago di Braies/Pragser Wildsee, or hop on a train to give your legs a well-deserved break!
ONE HIKE LEADS TO ANOTHER!
Dreaming of an active holiday this summer? Then you must be dreaming of Olang! The network of hiking trails criss-crossing Val Pusteria/Pustertal is infinite. That's why Olangerhof is ready to tell you which trails you absolutely have to try and to show you our favourite spots. Does hiking make you peckish? No worries, there are always plenty of welcoming huts along the way where you can eat your fill!
Here are our hiking musts:
Hike to Lanzwiese Alm
Hike to Obereggeralm
Panoramic hike up Stiergarten
Panoramic tour to Lago dei Colli Alti/Hochalpensee and Punta Tre Dita/Dreifingerspitze
Circular hike to Col Vallaccia/Flatschkofel in Fanes-Senes-Braies Nature Park
Circular hike on Plan de Corones/Kronplatz
Hike between Olang's pastures
One thing is certain: children never get bored. Especially not in South Tyrol. Have you ever heard of the Funbob at Baranci/Haunold in Innichen? It's the longest bob run in South Tyrol and is adored by people of all ages. And how about Olperl's Nature Park at the mountain station of Monte Elmo/Helm? Explore the ten themed areas and the animal kingdom while the Sexten Dolomites peer at you from afar. But wait: Why stop at just one adventure park? At the Regno del gigante Baranci/Riesenreich Haunold, Toblach adventure park, and Kronaction (the largest adventure park in South Tyrol), there's plenty more fun to be had!
CLIMBING TO THE PEAKS OF BLISS!
How brave are you? In Olang, you can test your nerves on the Dolomites in Fanes-Senes-Braies Nature Park. And if you're feeling especially courageous, physically fit, and have the right equipment (which you can rent, by the way), it's time to head for a via ferrata. These routes equipped with steel cables are certainly not for the faint-hearted, but are absolutely worth the effort for the spectacular views from the top. Our tips: Cima dei Colli Alti/Hochalpenkopf, Piz da Peres, Punta Tre Dita/Dreifingerspitze, and Monte Muro/Mauerberg.
How does it feel to fly over Plan de Corones/Kronplatz at 80km/h? You tell us! Plan de Corones/Kronplatz has something for everyone, and one of its most popular attractions is the Flying Fox Zipline. Starting in the village of San Vigil, you soar over forests and breathtaking landscapes. Screamingly good!
FLYING HIGH ABOVE THE WORLD
If you want to soar over Val Pusteria/Pustertal without being attached to a cable, why not have a go at paragliding? Thanks to speedy lifts, you can reach the highest heights in no time flat and enjoy solo or tandem flights, giving you a bird's eye view of Val Pusteria/Pustertal. Feel the freedom!
Want to rent the equipment for your next hike? Then you're in luck: At Olangerhof, everything is close at hand!
Do you love starting the day with a run on the treadmill? Excellent. Is weightlifting your favourite way to end the day? Fantastic. Olangerhof's gym is the ideal place for motivated people like you. Try out all our latest-generation Technogym equipment from 7 am. to 7 p.m. and stay fit in style. Light or full-power? That's up to you!