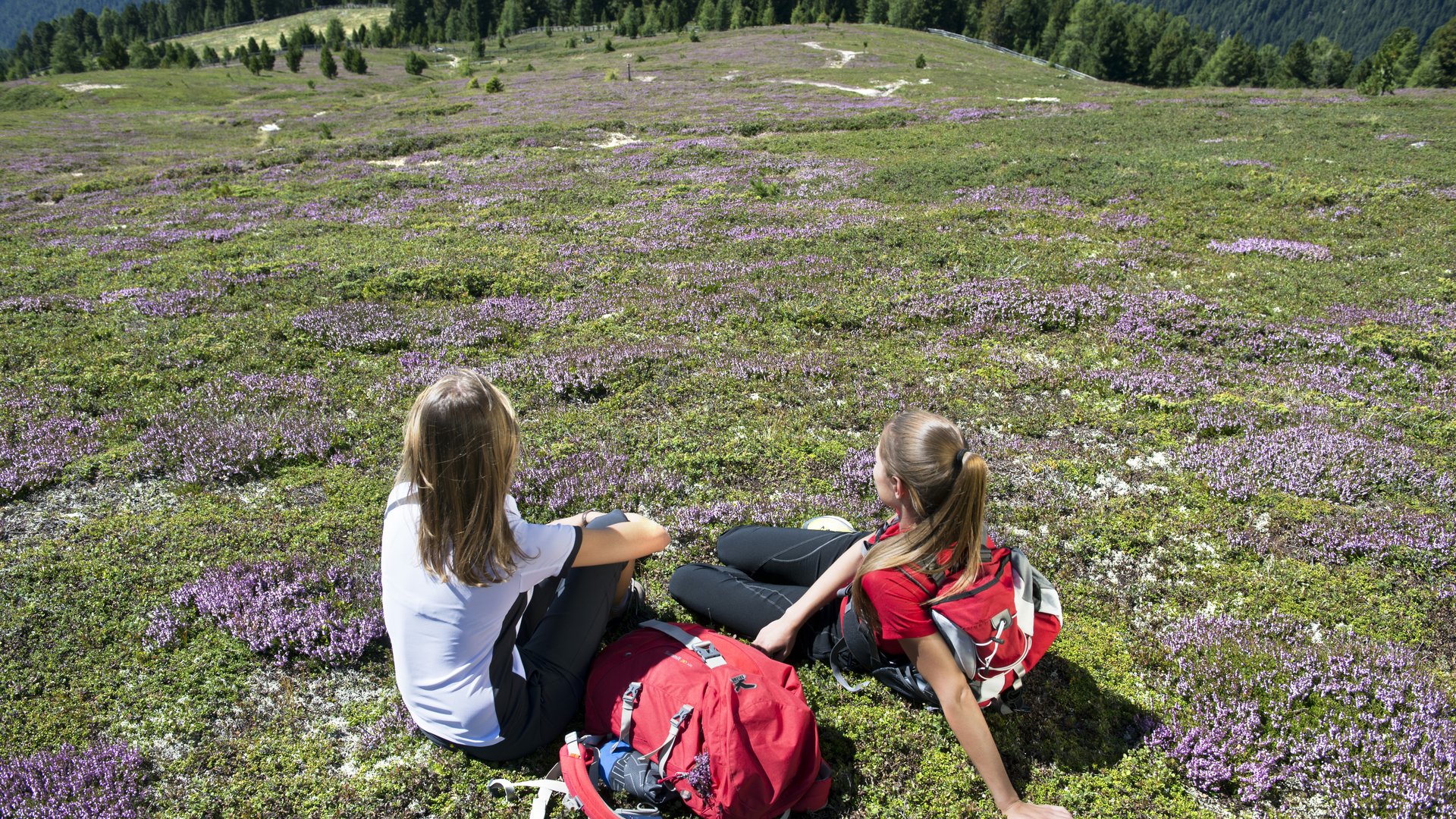 VAL PUSTERIA/PUSTERTAL: NATURE'S TREASURE TROVE
What better place than Olangerhof? What better time than now? We say: It's high time for new adventures! So, seize the opportunity, pack your rucksack, and head out to discover the natural beauty of Val Pusteria/Pustertal.
3 NATURE PARKS = ADVENTURE³
Where else can you find so many natural treasures in such close proximity, and right on your hotel doorstep to boot? When you stay at Olangerhof, you've got no fewer than three nature parks to discover. Should we tell you which two parks have been named UNESCO World Heritage? Well, the first is Fanes-Senes-Braies Nature Park, with its imposing peaks and sprawling pastures, all reflected in the waters of stunning Lago di Braies/Pragser Wildsee. The second is Three Peaks Nature Park, home to the famous summits of the same name. Oh, you want to know the name of the third, too? That would be Vedrette di Ries-Aurina/Rieserferner Ahrn Nature Park, beautiful enough to make anyone melt – but thankfully, its numerous glaciers seem to be immune!
DESTINATION: LAGO DI BRAIES/PRAGSER WILDSEE
Are you searching for the portal to the legendary Kingdom of Fanes? They say it's hidden between the larch and stone-pine forests, in the depths of the turquoise waters otherwise known as Lago di Braies/Pragser Wildsee or the pearl of the Dolomites. Here, at 1,500 metres above sea level, the silence of nature is mighty. Just as mighty, in fact, as the Dolomite peaks of Valle di Braies/Pragser Tal in Fanes-Senes-Braies Nature Park. Speaking of peaks, you're probably asking what the awe-inspiring 2,810m peak is called that's reflected in the lake. That would be Croda del Becco/Seekofel!
ADVENTURE KNOWS NO BOUNDS: LAGO DI DOBBIACO/TOBLACHER SEE
Fanes-Senes-Braies Nature Park or Three Peaks Nature Park: can't decide? Then why not head to the boundary where the two meet? Between the Rienza/Rienz and Drava/Drau rivers, you can admire Lago di Dobbiaco/Toblacher See in all its glory. Follow the educational nature trail along its banks and discover the animals and plants that make their home there. In Val Pusteria/Pustertal, nature knows no bounds.
PERCA/PERCHA EARTH PYRAMIDS: A NATURAL MASTERPIECE
Some days they're yellow, others they're grey. While their colours may vary depending on the weather, one thing always stays the same: their beauty. The Perca/Percha earth pyramids are some of the most characteristic rock formations in Val Pusteria/Pustertal. But how were they formed? Well, it took centuries upon centuries of erosion, rain, thawing, and landslides to create these natural spectacles. And we think they rock!
Are our offers making eyes at you? Now's the moment to pick your favourite and let sparks fly!
The invitation is always open, just like the door of Olangerhof. You don't need to say the magic word, just send us an enquiry or make a booking – job done! Seize the moment!