A HOTEL ON THE PISTES OF PLAN DE CORONES/KRONPLATZ?
THE LOCATION IS TOP. DO YOU WANT TO REACH THE HEIGHTS OF HOLIDAY DELIGHT?
Are you looking for a hotel on the pistes of Plan de Corones/Kronplatz? We'll give you a tip: You're on the right track. If you can find your way to Olangerhof, you'll be less than a stone's throw away from the snowy action. Skis at the ready: let winter begin!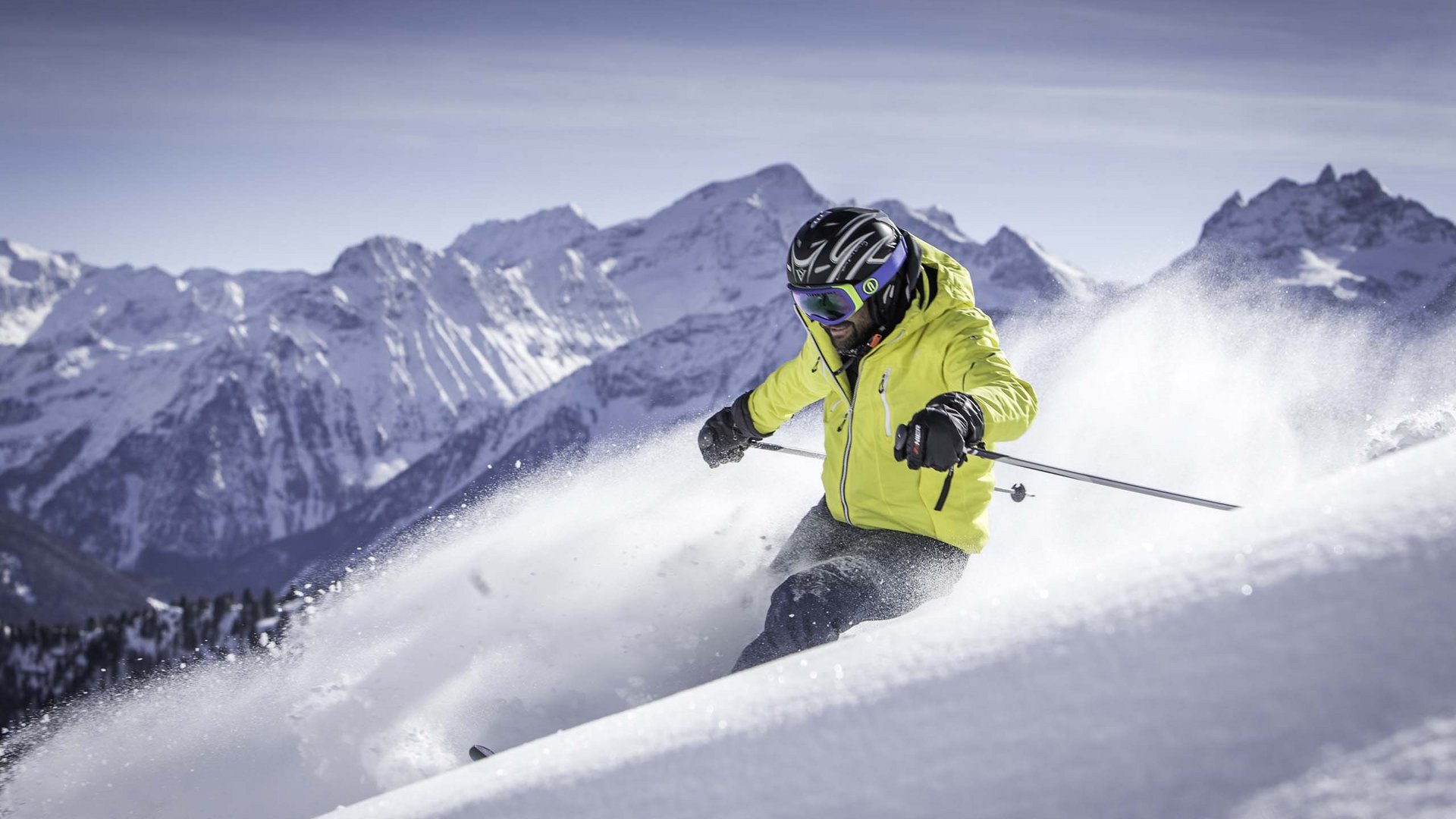 So, you've found Olangerhof, your hotel on the pistes of Plan de Corones/Kronplatz: not bad! Now, all you need to do is head out the door with your skis and you'll find yourself at the foot of a winter paradise – the perfect location for anyone who can't wait to throw themselves head first into a new adventure. Don't know where to begin? Check out our top 7: a highlight for every day of the week!
#1 PLAN DE CORONES/KRONPLATZ
Undisputed number 1
What's the top attraction of our hotel on the pistes? Plan de Corones/Kronplatz, of course! But what makes it so special? 119km of ski pistes where you can whizz down the slopes at full speed, 32 lifts (have you heard about the new Olang 1+2 cable car? Amazing!) to take you up the mountain and bring you back to the valley in the blink of an eye, 40 Alpine huts where you can recharge your batteries and sate your hunger, and plenty of après-ski to celebrate a fun-filled day in the snow in fantastic company.
PS. Did you know that Plan de Corones/Kronplatz is part of the Dolomiti Superski ski carousel? That means you can enjoy a whole host of pistes with just one ski pass!
#2 PLAN DE CORONES/KRONPLATZ SNOWPARK
3, 2, 1… action!
Do you love acrobatics, choreographed turns, and spectacular feats? Then Plan de Corones/Kronplatz Snowpark is sure to get your heart racing. At 2,230m above sea level, between the Belvedere and Plateau pistes, four different types of lines to suit all tastes and abilities await you: easy line, medium rail line, medium kicker line, and family fun line. If you're passionate about snowboarding and freestyle skiing, this is an absolute must. In Val Pusteria/Pustertal, winter has more style!
Heading for the peak!
Mountaineers don't let a little thing like winter get in the way. So, strap on your skis and skins – it's time to pay that summit cross a visit! Against a picturesque winter backdrop, you'll pass through sugar-coated forests and cross snow-clad slopes before reaching the peak … of delight! Our challenge for you: to spot Olangerhof from the lofty heights of our Alpine summits! Breathe in another lungful of pure mountain air and immerse yourself in the enchanting nature of Val Pusteria/Pustertal.
Don't miss these ski tours:
Ski tour to Piz da Peres
Ski tour to Cima Tre Dita/Dreifingerspitze
Ski tour to Col Vallaccia/Flatschkofel
Make tracks!
Around your hotel on the pistes of Plan de Corones/Kronplatz, you'll leave tracks in the snow while the magical winter scenery leaves its tracks in your heart. The silence of the forests, the unmistakable sound of snow crunching under your snowshoes, the gleaming white of the snow-covered peaks: oh, so peaceful! Leave your cares at home and make space for sparkling winter memories at 1,820 metres above sea level. So, strap on your snowshoes and head for the next slice of paradise.
Discover our favourite snowshoe hikes in Olang:
Snowshoe hike Maso Voppichl/Voppichl Hof – Malga Lanzwiese/ Lanzwiesen Alm
Snowshoe hike Gassl – Pracken reservoir
Snowshoe hike Bagni di Pervalle/Bad Bergfall – Berggasthof Trattes
Snowshoe hike Hochnall and earth pyramids
Snowshoe hike Monte Salmone/Durakopf with panoramic view
Blankets of snow
The Dolomites UNESCO World Heritage rise up majestically right in front of our hotel on the ski piste. If you want to explore every inch of them, you're in the right place: all you need to do is take one of the 13 hiking trails in Olang and you'll immediately be immersed in our awe-inspiring Alpine world. So, strap on your snowshoes, wrap up warm, and discover all the shades of white in Val Pusteria/Pustertal. Oh, so sparkling!
Where do you want to go on your next hike?
Winter hike Olang reservoir – Welsberg
Winter hike Panorama – Voppichl
Circular winter hike Lago di Dobbiaco/Toblacher See
Winter hike on the Pascoli di Sesto/Sextner Almen
Winter hike Valle San Silvestro/Wahlen
Circular winter hike to the Sorgenti della Drava/ Quelle der Drau
Circular winter hike Olperl's Nature Park
Winter hike Seefelder
Winter walk Achmühle
High-speed thrills!
Toboggans at the ready! Did you know that you can find the longest natural toboggan run in Olang just a stone's throw from Olangerhof? So, get ready for 7km of high-speed, snow-filled fun. If you're a tobogganing newbie and want to try something with a more relaxed pace first, we recommend the Panorama toboggan run between Olang and Mitterolang: The magic carpet promises oodles of fun, even for the smallest snow lovers!
#7 VAL PUSTERIA/PUSTERTAL IN WINTER: SKATING
Gliding into fun!
Are you a real ice queen (or king)? If you love dancing on ice, glide on over to the ice rink in Mitterolang. You can hire skates there, but you'll have to bring your sense of fun from home – or from Olangerhof, your hotel directly on the ski pistes in Trentino-South Tyrol.
PS. Did you know that skating on frozen lakes promises even more enjoyment? Give it a try on Lago di Braies/Pragser Wildsee and Lago di Dobbiaco/Toblacher See.
Why join one of our guided hikes? Because we'll show you Val Pusteria/Pustertal through the eyes of a local. You can't get much more authentic than that.
Do you love starting the day with a run on the treadmill? Excellent. Is weightlifting your favourite way to end the day? Fantastic. Olangerhof's gym is the ideal place for motivated people like you. Try out all our latest-generation Technogym equipment from 7 am. to 7 p.m. and stay fit in style. Light or full-power? That's up to you!